Description
⭐⭐⭐⭐⭐

buy 2 get extra 10% off
Create Flawless and Natural Makeup

 

# 1 BEST Selling Makeup Mirror 2021
Want to have delicate makeup that looks natural and flawless?
This 10x magnifying round mirror has an elegant design with a foldable function. The perfect 10x magnification helps you see even the tiniest details while doing fine make-up, lining eyelids, trimming eyelashes and removing acne, etc. The suction cup at the back ensures strong suction force on a smooth, dry and clean surface for handy use for the bathroom counter or dresser. Great makeup vanity mirror for both men and women.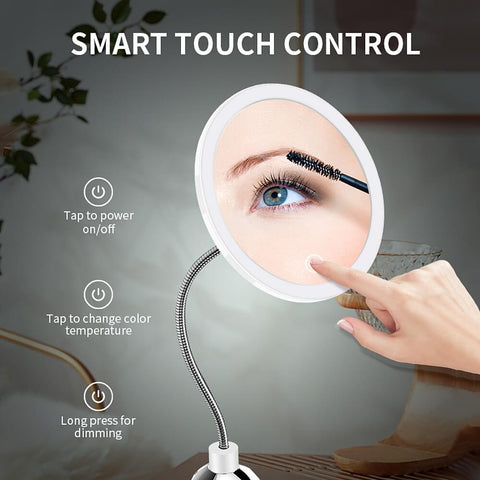 * 10X MAGNIFICATION: Our 10X magnifying makeup mirror provides powerful magnification and allows you to focus on a specific section of your face to achieve a professional finish; Ideal for applying makeup and other beauty treatments that require more precision extra precision, such as applying contact lenses and eyebrow tweezing, precise tweezing, shaving, hair styling and facial care.
* UPDATED INTELLIGENT SWITCHING DESIGN & NATURAL LED LIGHTS: Smart touch screen switch and dimming lighting design make it easy to use and fit to different environments; LED lights can last for 50000 hours, which 40 brighter and 60% less energy than incandescent bulbs.6000k color temperature is equivalent to outdoor sunlight,the makeup is naturally no difference.Power supply is 3 AAA batteries(Not included).
* EASY TO USE UPGRADE BASE & POWERFUL SUCTION CUP: We upgraded the base of the 10x makeup mirror, which is more convenient to use than the traditional rotating suction up base. When using, you only need to simply push the clip on the base up and down;Strong suction cup locks your mirror securely onto any clean, smooth and flat, clean surface with ease; such as on a table, wall, window, and even a larger mirror.
* 360 DEGREE ROTATION & EASILY PROTABEL TRAVEL READY: 360°rotation helps to adjust to any desired angle or position;The cordless and lightweight features of this cosmetic makeup mirror make it very suitable for travel and handled use. Come with an exquisite package makes it as a great gift for friends who are always on the go.
Having trouble finding the best position while doing your make up?
The Wall-Mount Magnifying Mirror with an 11.5-inch extension arm can help you do makeup easily. There is no need to climb onto the bathroom countertop to get close to the mirror. You just need to stand in front and adjust the mirror position (height and direction) freely for your desired comfort. 
A 360° rotating swivel head allows the mirror to rotate freely to any desired angle. You can easily find a suitable position to apply your makeup or other beauty maintenance needs.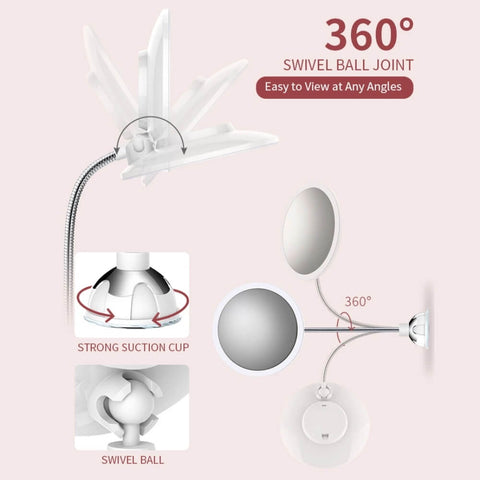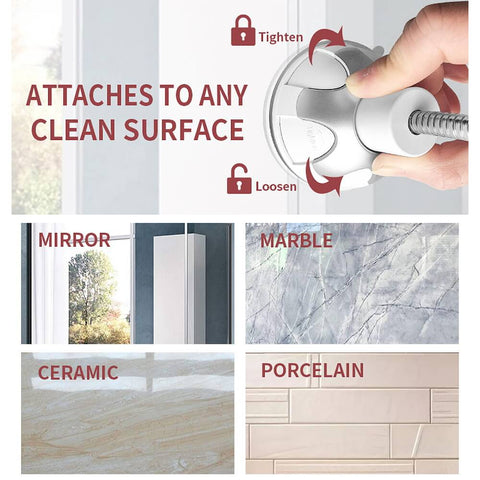 Product Features:
This mirror requires a clean, flat and smooth surface of at least 3.5" X 3.5", otherwise the suction may not work.
This mirror can attach to flat surfaces such as ceramic, marble, acrylic, quartz, glass and other mirrors.

Easy-Lock and a strong suction cup will help you to easily stick the mirror to the dressing table, a wall in the bathroom or any other flat and clear surface. The strong suction cup attaches the mirror firmly and will not fall down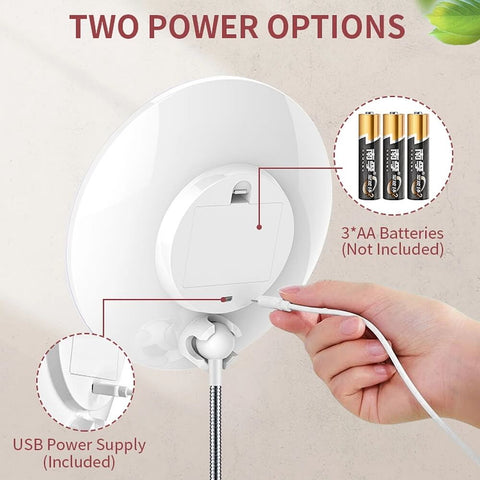 This is easy to use a mirror that has an exceptionally detailed viewing. It is great for applying makeup and other beauty maintenance needs.
Perfect for plucking eyebrows, inserting contact lenses, applying makeup, doing your hair, shaving & more! 
P.S Limited Sale-50% off today only!
Why you don't want to choose this multifunctional mirror? 
CLICKING ADD TO CART ABOVE TO GET YOURS TODAY! 
Payment & Security
Your payment information is processed securely. We do not store credit card details nor have access to your credit card information.